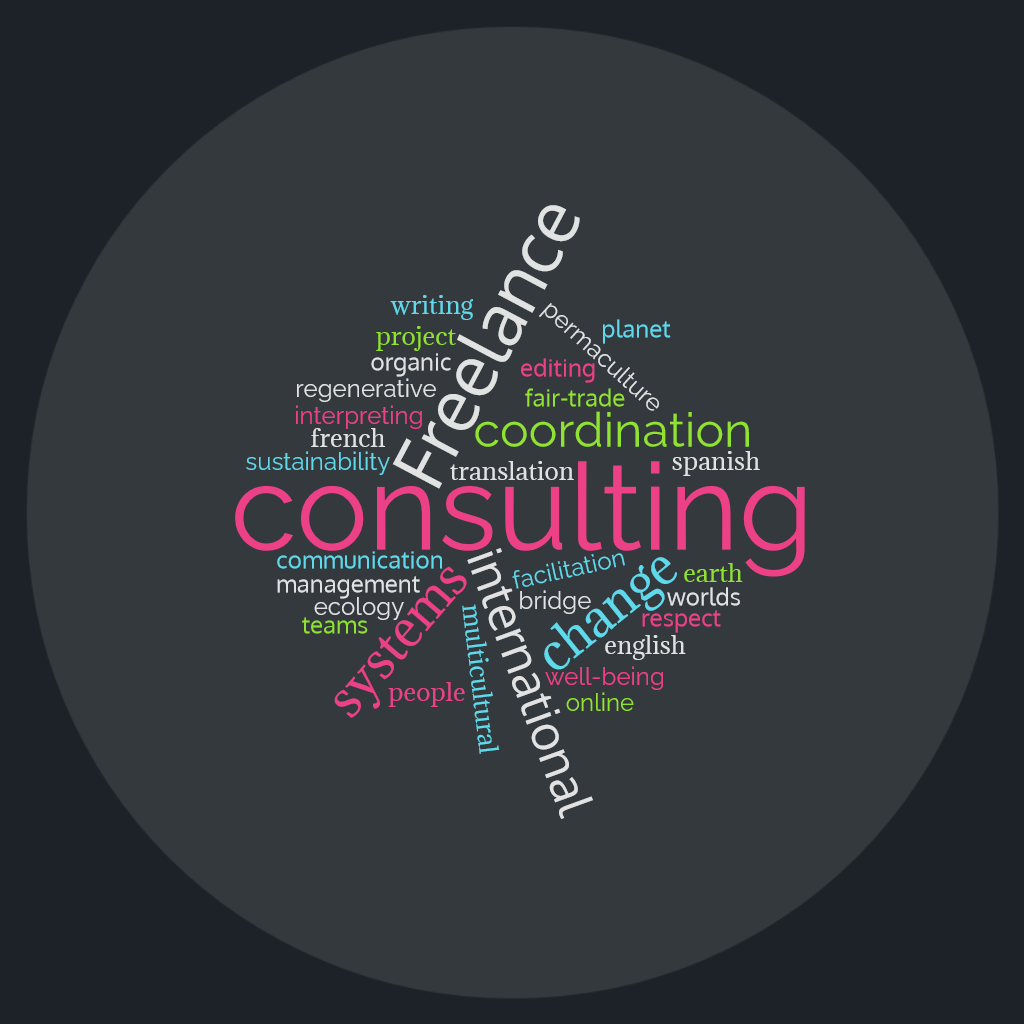 I have been working as a freelancer since 2018, riding the wave of digital collaborative tools and enjoying meeting people from all over the world online and sometimes in real life too. Bringing together my technical skills and passion to serve a greater purpose, I support, co-create and coordinate projects and events that match my vision: building together a fairer, peaceful, sustainable, eco-logical, beautiful world. I work mainly as:
a consultant: project coordination and facilitation, mainly in the areas of ecological and social transition, the arts and healing/well-being. I am open to other areas.
an interpreter/translator: 2-way online consecutive interpretation in English and French, translation and editing/proofreading. I make sure all parties get the message and help bridge and connect people, languages and cultures.
a writer/editor: content writing, blog writing, and editing in English and French.
I spent quite a few years in several universities studying language and linguistics (Strasbourg, Toulouse and Lyon in France, Edinburgh and Sussex in the UK), leading me to research the dynamics of semantic change in my PhD. in Cognitive Science and Linguistics (2013).
My interest in change and the evolution of systems is wider, and after diving into theories and models, I felt called to get more practical and connect to the earth. I acquired hands-on experience in teams, especially as M33 art studio's co-founder and co-president (2014-2016), and as Sunseed Desert Technology's facilitation coordinator (a transient eco-village in Spain), (2016-2017).
More recently, I have been a consultant for companies committed to the ecological and social transition, for instance as Orinko and Vibratis' main blog writer, and Seed2Shirt Farmer Enrichment Program's regenerative systems implementation director and lead translator/interpreter.
Languages
French (native)
English (fluent)
Spanish (advanced)
Main Diplomas
PhD. Cognitive Science – Linguistics, 2013
University of Lyon, France – CNRS (National Centre for scientific Research) – ISC (Institute for Cognitive Sciences) – L2C2 Laboratory (Language, Brain and Cognition) .Obtained with the highest distinction ("very honourable with the jury's congratulations"). Scholarship "Creativity and Innovation – Cible" 2009, granted by the Rhône-Alpes region.
Master of Arts in Applied Linguistics (with Merit) Sussex University, UK, 2007
Master 1 English Language, Literature and Civilization, specialization: Linguistics (with distinction), Toulouse le Mirail University, France, 2006
Training in other fields